Sangli: Under the scorching sun in an open ground Thursday, people waited for several hours for Maratha leader Manoj Jarange-Patil's rally at Varvand village in Maharashtra's Pune district to start. They were hungry and thirsty. But, they did not seem to mind that.  
Many youngsters had hope in their eyes and energy in their voices when they sloganed 'Ek Maratha Lakh Maratha'. The youths see themselves in Jarange-Patil who, they claim, stands up for Maratha quota, unlike other Maratha politicians. The Jalna-based leader once worked at a hotel in Jalna. 
Several of his followers told ThePrint that they took note of him in the last two months. Social media messages, videos circulated in WhatsApp groups and YouTube drew them to him. For them, his hunger strikes and making the government take note of Maratha quota is a selfless gesture for the community.
Jarange-Patil turned up at 3 pm for a rally that was scheduled for 11 am. He was welcomed with loudest cheers and claps and the saffron flags flew high up in the sky. At a corner, a JCB laye covered with yellow marigold petals.
Apologising to the crowds, he explained that his car was stopped on the way at different points as well-wishers greeted him. 
In the speech that followed, he told his fellow Marathas that they have won 70 percent of the battle and that they have to keep fighting. "Marathas from every household have united to form a big tsunami. And in front of this tsunami, even the government is forced to bend down." 
The same scenes played out 100 km away where he stopped for his next rally. And, again 40 km away at Mayani in Satara. 
Jarange-Patil is on the third leg of his Maharashtra tour trying to bring the Marathas together for the demand of providing OBC Kunbi caste certificates. He has set a deadline of 24 December to the Maharashtra government.
The tour's focus is western Maharashtra — the sugar bowl of the state and the home to Maratha politicians like Ajit Pawar, Udayan Bhosale, Jayant Patil, and Bunty Patil. Rallies are also scheduled in CM Eknath Shinde's  strongholds Raigad and Thane.
Next week, he will begin his tour of North Maharashtra — Jalgaon, Dhule — to establish his leadership and to put pressure on the government
A lanky man sporting a tikka and a saffron scarf, Jarange-Patil was a relatively obscure figure in Maharashtra's politics. That was until 1 September, when a police lathicharge thrust him into the spotlight, making him the face of the Maratha reservation movement. 
The former Congress worker started gaining momentum in 2011 when he founded Shivba Sanghatna in Jalna's Shahgad.
The Marathas comprise 33 percent of Maharashtra's population as per the 2011 Census. Maharashtra has had 11 CMs, including the incumbent Eknath Shinde,  from the community since 1960. The community has been demanding reservation since the 1980s. It was only in 2019 when the Devendra Fadnavis led BJP-Shiv Sena government sanctioned quota in jobs and education, only to be struck down by the apex court in 2021.
The state government has filed a curative petition in the SC regarding the Maratha reservation issue, and a state-appointed committee has started gathering evidence for Kunbi certificates for the Marathas to include them in OBCs.
---
Also Read: Why Jarange-Patil's touring Maharashtra — quest to establish himself as statewide leader, counsel youth 
---
Widespread support 
Currently, Jarange-Patil is attending three-four rallies a day and in between the rallies, his supporters have arranged for corner sabhas in villages. His followers greet him with showers of petals and traditional Maharashtrian welcome with tika and diya.
Men, women, boys and girls — they all attend in large numbers at his programmes. 
"If Jarange-Patil can go without food and water for many days so that the community's future is secured, why can't you wait for some time," the announcers kept announcing from the stage every few minutes.
Ramesh Paygude, 47, who owns a kirana store, was sitting under the scorching sun since 10 am. He is scared for the future of his 21-year-old son and 14-year-old daughter, and believes that Marathas should come under the ambit of reservation.
"The condition and social status of Marathas are not the same that they used to enjoy a few years back. Our conditions have deteriorated over the years. If we come under quota, then our children can get admissions and jobs easily," he said.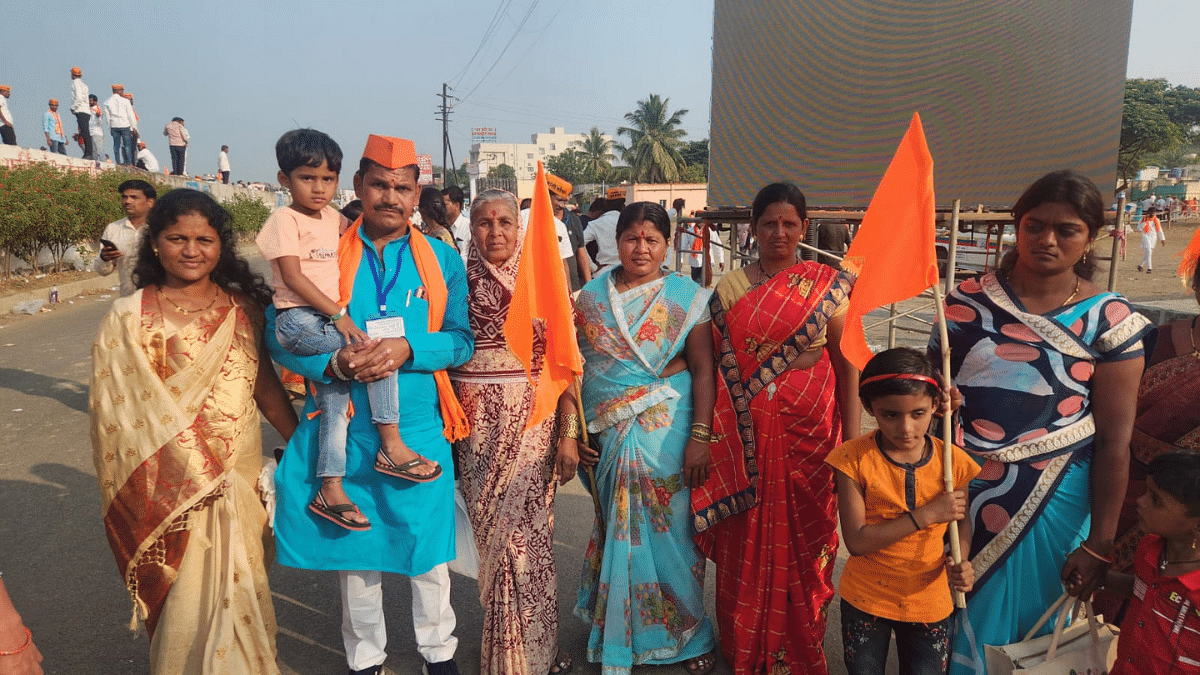 Jalinder Mahadev Chaudhary, a resident of Varvand, agreed. He had attended the rally with 12 members of his family and was so inspired by Jarange-Patil that he himself did a hunger strike in his village in October for five days to express solidarity with him.
"Jarange-Patil is fighting for us and our children. There is no leader like him. Rest all get managed easily but not him," Chaudhary, 37, said. "Education is becoming expensive and college fees are extremely tough to pay, especially for small farmers. Reservation will make the life of five children in our family comparatively easier."  
Many like Paygude, Mayur Khedekar and Suman Jadhav find it difficult to trust the Maratha leaders in political corridors. "These politicians live only for power. Once power shifts, their words are forgotten. We don't trust them," Paygude said.
"We trust only Jarange-Patil. If anyone can give us reservation, then it is him only," Mayur, 25, said.
"He is trying to bring the community together. Right now, Marathas are scattered and no political leader has tried to keep us together in years. But he is working tirelessly," Suman, 64, said at Sangli.
Suman, a farmer, along with 24 other family members attended the rally. While it was the first time she took part in Jarange-Patil's rally, her two sons had attended the Jalna rally in the first phase of the tour.
As Jadhav said, the community was turning out in large numbers to attend the rally. They wouldn't mind waiting for Jarange-Patil. Some kept their shops closed, some missed schools, and a few skipped their offices.
Ranjeet, 18, and his father Rajendra Kadam had participated in the 2017 Maratha Kranti Morcha in support of full reservation to the community.
"I don't know the technical aspect of this. But we trust Jarange dada. He is very concerned about the community. Rest of the leaders are selfish. They work only for their politics, not for our community. I don't even trust the government," said Rajneet, who was accompanied by his father at Sangli.
'Spread awareness'
Through his speeches, Jarange-Patil is urging the Marathas to carry out awareness campaigns in their villages. "From 1 December, we should do chain protests in our villages. Jarange-Patil spoke in his rally. Even though the government is working…, we have to spread awareness amongst our community," he told the crowd.
"There are people from our community working for the government. They can have a different view and oppose us. They might even convince you otherwise, but you should not give up. Spread awareness as much as you can." 
Meanwhile, an OBC rally was also held Friday by Chaggan Bhujbal, a Cabinet minister from Ajit Pawar faction NCP, in Jalna. 
One of the big criticisms against the Maratha quota is that the community wields  great political influence in Maharashtra politics.
"Just because some people are powerful in the community, doesn't make the commoners empowered," Jarange-Patil told ThePrint on the sidelines of the rally. "The community is in distress. Just because of a few, there can't be injustice on the rest. Marathas are agriculturists and their backwardness is proven. Government is also now finding Kunbi caste proof. This will help us get Kunbi certificates…" 
The December deadline will work as the government committee has started collecting the Kunbi evidence, he felt.
But, to the electrified crowd, Jarange-Patil said that if the deadline is not met this time, then after consulting the community leaders, he will take the decision regarding next steps. "We are done with our patience."
(Edited by Tony Rai)
---
Also Read: Shinde govt forms board of retired judges to look into Maratha quota demand as protests escalate 
---
Denial of responsibility!
Chronicles Live is an automatic aggregator of the all world's media. In each content, the hyperlink to the primary source is specified. All trademarks belong to their rightful owners, all materials to their authors. If you are the owner of the content and do not want us to publish your materials, please contact us by email –
chronicleslive.com
. The content will be deleted within 24 hours.